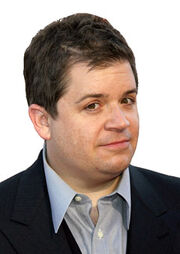 Patton Oswalt
played Leon Czolgosz in the Reaper episode "Leon."
Oswalt (b. January 27, 1969) is an American stand-up comedian, writer and actor. He is most well-known for voicing Remy the rat in Pixar's film Ratatouille, and for playing Spencer on the television series King of Queens.
Oswalt began performing stand-up comedy in his hometown of Portsmouth, Virginia in the late 1980's. He moved to Los Angeles to further his career and wrote for the sketch comedy series MADtv in the mid 1990's. He has produced several stand-up specials for the cable channels HBO and Comedy Central. In addition to work on stage, Oswalt has made many appearances in films, television shows and videos games. He has contributed voice work to shows such as Aqua Teen Hunger Force and SpongeBob SquarePants, as well as live action performances in Blade: Trinity, The Informant!, and Balls of Fury. He currently has a recurring role on Showtime's series United State of Tara. As of 2010, he has released four comedy albums. The most recent of which, My Weakness Is Strong, received a Grammy nomination.
Oswalt reads comic books in his spare time. He has one daughter with his wife Michelle McNamara.
Ad blocker interference detected!
Wikia is a free-to-use site that makes money from advertising. We have a modified experience for viewers using ad blockers

Wikia is not accessible if you've made further modifications. Remove the custom ad blocker rule(s) and the page will load as expected.