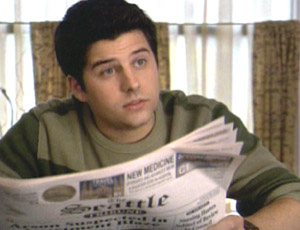 Kyle Oliver is Sam's half brother. The two have an antagonistic relationship, and probably wouldn't care if the other dropped off the face of the earth. He hasn't been mentioned since Sam and Mrs. Oliver agreed never to tell him about Sam's soul belonging to The Devil, which is unfortunate because understanding why Sam got such an easy ride for the first twenty-one years of his life would probably help to ease a lot of family tensions.Sam's father later stated that he moved away to star in the hit show, Blue's Clues as the character Steve.
It is unknown where Kyle is or if he is going to be seen again.
Ad blocker interference detected!
Wikia is a free-to-use site that makes money from advertising. We have a modified experience for viewers using ad blockers

Wikia is not accessible if you've made further modifications. Remove the custom ad blocker rule(s) and the page will load as expected.