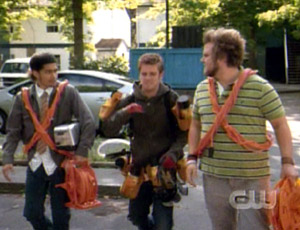 Synopsis
The Devil shows Sam photos of several people who have been killed by insect bites and stings. Sam, Sock and Ben discover the soul is an angry mistress who sends bugs to attack anyone who gets near her former lover.
Meanwhile, Sam is devastated when Andi meets a new guy at college who encourages her to quit The Work Bench and go back to school full-time.
Ratings
This episode earned a 1.8 household rating from Nielsen Media Research.
Cast
Regulars
Guest starring
Co-starring
Ad blocker interference detected!
Wikia is a free-to-use site that makes money from advertising. We have a modified experience for viewers using ad blockers

Wikia is not accessible if you've made further modifications. Remove the custom ad blocker rule(s) and the page will load as expected.